First Aid for Working at Height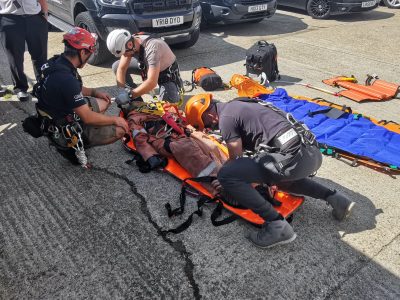 Course overview
To provide candidates with the practical knowledge and practical experience to provide emergency first aid in the workplace. This course meets the requirements for Emergency First Aid at Work.
The course will be conducted in a "hands on" fashion as to get the most from this course.
The day will include assessments of a theory paper and practical skills.
Requirements
Working at height training
First Aid (3 Day) or Emergency first Aid at work
Course syllabus
Principles of First Aid
Chain of Survival
Emergency Management Procedure
Scene Survey
Exposure Protection
Patient Survey using DR(C)ABCDE Protocols
Recovery Position
Cardiopulmonary Resuscitation
Alternative Ventilation Procedures
AED training
Choking
Control of Bleeding
Shock Management
Responsive Patient Assessment 
Epilepsy and Seizures
Minor Injuries
Medical/First Aid Kit Contents
Accident Recording and Patient Report Forms 
Suspension Syncope
Spinal Injury Awareness
Electrical Burns 
Certification
On successful completion of the course, candidates will receive a Certificate for this 8 hour First Aid at height course, valid for 3 years.
Age restrictions
18+
Cost
Note: All costs above are exclusive of VAT.
Terms and Conditions & Refund Policy
Our terms and Conditions including our refund policy can be found here
Please read the following instructions before using our booking form below:-
You can book your course below using our secure and easy to use online booking system.
We accept Card Payments, via Stripe, or BACS which you can select in the "Payment method" section.
Please click here to contact us

if you have any problems.